Offroad Mechanic Simulator v1.05
https://store.steampowered.com/app/1137750/Farmers_Life/
Offroad Mechanic Simulator: Prologue - First Job is a free version of Offroad Mechanic Simulator. It allows you to check out all the game's base gameplay features by taking your first commission and testing out three cars on the Forest track:
https://store.steampowered.com/app/2260130/Offroad_Mechanic_Simulator_Prologue__First_Job/
Prepare for an offroad adventure!
In Offroad Mechanic Simulator you are employed to modify offroad vehicles and prepare them for the toughest challenges they could face!
Accept contracts that go well beyond standard repair jobs. Equip the client's cars with the best parts that far exceed their original capabilities and make sure they're ready to travel the most difficult terrains possible. Get ready to install a higher suspension or add a snorkel when a client needs it. Choose the parts that will do the job without going over your budget.
Rise to the challenge of servicing offroad vehicles in a single-player campaign! Enjoy your progression as you steadily learn how to service increasingly expensive cars. Purchase additional parts and tools needed to transform a car into an offroad monster.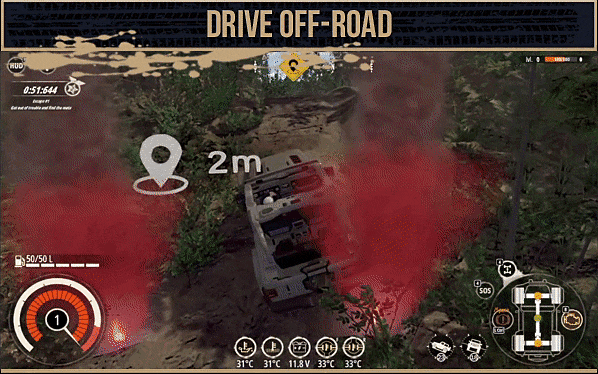 Set out for your own offroad adventure to test the modifications you made. Drive across perilous terrain, climb cliffs, and cross muddy rivers. Enjoy breathtaking scenery before moving on to the next obstacle. And don't forget to wash your vehicles before you hand them off to the client!
Features
Multiple unique cars to work on

Beautiful, photorealistic graphics

Various tools that let you modify your vehicles

A wide selection of parts to install that allow your cars to achieve remarkable feats

Career mode with story missions

Various randomized assignments and jobs to complete

Decorative elements to personalize the cars

Different tracks where you can test if your vehicles are ready for an offroad challenge

Unlimited fun with creating vehicles that can face anything!
Cấu hình để chơi game Offroad Mechanic Simulator
Minimum:

Requires a 64-bit processor and operating system
OS: Windows 10 - 64bit
Processor: i7-4770k
Memory: 6 GB RAM
Graphics: GTX 1060 6GB
DirectX: Version 11
Recommended:

Requires a 64-bit processor and operating system
Processor: i7-9750H 2.60GHz
Memory: 16 GB RAM
Graphics: GTX 1660Ti
Mua bản quyền game Offroad Mechanic Simulator
Nếu thấy game Offroad Mechanic Simulator hay thì nhớ mua bản quyền game ủng hộ nhà phát triển các bạn nhé. Bấm vào nút bên dưới để dẫn đến trang mua bản quyền.
Kéo từ phải sang trái để xem
Chưa có bài thảo luận nào liên kết với bài viết này.